What is Cash Passport Platinum travel card?
Cash Passport Platinum Travel Card is a prepaid, reloadable travel money card, packed with features.

11 currencies, locked in rates
Lock in exchange rates
each time you load
and reload.
Load up to 11 different
currencies on one card:
USD, EUR, GBP, NZD,
THB, CAD, HKD, SGD,
JPY, AED, and AUD.
No load fees
$0 initial load fee and $0 card issue fee. Travel fluently with no fees when ordering your CashPassport.
24/7Global Assistance
Help is only a call away, whenever and wherever you are. If your card is lost, stolen or damaged, it can be replaced quickly or provide you with emergency cash.

Wide acceptance
Use your Cash Passport Platinum like you would a credit or debit card, except with your own funds. In-store, online or to withdraw local currency at ATMs.

How do I order a card?
Ordering your card is easy – simply pop into our store, our consultant will help you in no time!
When you' re planning to order your card in-store, just bring your Australia Passport, or Driver's Licence with you so we can do a quick ID check. Our consultant will setup your card in the system, meanwhile you get to work loading funds onto your card.
You will receive your Cash Passport Platinum card on the spot once we completed your account setup process, and ready to go!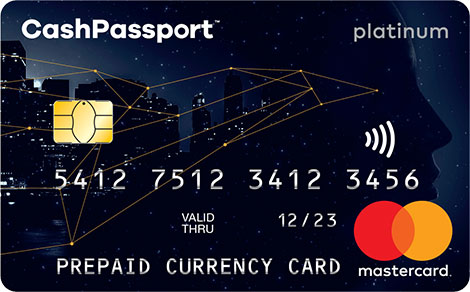 Stay in control, smart way to travel
Fast and easy reloads
Cash Passport Platinum is reloadable, allowing you to top-up any of your currencies, anywhere, anytime.
You can reload your card in the following ways:
Load your card in-store (instant)

Load online from Debit Card (instant)

Bank transfer (1 business day)

BPAY (up to 2 business days)
Fast and easy reloads
You can register online, then use your mobile, tablet, laptop or PC to login to "My Account" and stay in control of your travel oney.
Track your spending

Reload your card

Transfer between currencies

Retrieve your PIN

Suspend your card temporarily

Cash out your remaining balance
Cash Passport mobile APP is available for iOS and Android devices.
Tap & Go
Stop lining up, start experiencing more by enjoying the freedom of ultra-fast contactless payments, with Tap & Go at retail stores, restaurants, convenience stores, and more.
Whenever you see the universal contactless symbol, your Cash Passport Platinum is ready to go.
Safety and security
Spend securely as your Cash Passport Platinum is protected by CHIP and PIN.
Cash Passport Platinum is secured by Mastercard Zero Liability protecting you against unauthorised and fraudulent transactions, should your card ever be reported lost or stolen.
Looking for a back-up card? Easy, simply purchase an additional card at your initial setup.
24/7 global assistance
Your non-stop support centre is only a call or email away at all times. Cash Passport Platinum global assistant team will help you if your card is lost, stolen or damaged.
Cash Passport support team can replace your card quickly or provide you with access to emergency cash, so you can keep enjoying your holiday.
Platinum benefits
Free global Wi-Fi
Stay connected with family and friends' courtesy of free global Wi-Fi (up to 4 devices at any one time). Once you've loaded your Cash Passport Platinum with a minimum $100 AUD or foreign currency equivalent, you will be eligible for 3 months of free global Wi-Fi*.
How to access
Verify
Verify – Verify your eligibility on Boingo's website by entering your card number on mastercard.boingo.com (Please allow up to 24 hours after your load before verifying your membership eligibility)
Register
Register – If eligible, you can register for a Boingo account to access your 3 months free Wi-Fi
Access
Access – Once registered, you will be provided instructions on accessing global Wi-Fi. Download the Boingo APP on your preferred device and login for easy
Important information
Mastercard Prepaid Management Services Australia Pty Ltd (ABN 47 145 452 044, AFSL 386 837) arranges for the issue of the Multi-currency Cash Passport? ("Cash Passport") and Cash Passport? Platinum Mastercard? ("Cash Passport Platinum") in conjunction with the issuer, Heritage Bank Limited (ABN 32 087 652 024, AFSL 240 984). You should consider the Product Disclosure Statement for the relevant Cash Passport facility available at http://www.cashpassport.com.aubefore deciding to acquire the products. Any advice does not take into account your personal needs, financial circumstances or objectives and you should consider if it is appropriate for you.
Mastercard? and the Mastercard Brand Mark are registered trademarks of Mastercard International Incorporated.
Mastercard? and the Mastercard Brand Mark are registered trademarks of Mastercard International Incorporated. ~Lock in your exchange rates means the exchange rate is locked in for the initial load only. The exchange rates for subsequent reloads will be set at the prevailing exchange rate at the time of the transaction. *The exchange rate for initial load and subsequent card reloads will be processed at the exchange rate on the day of the load transaction, and will be locked in at that rate. We will provide you with settlement instructions and the applicable exchange rate at the time you book a reload transaction. Different exchange rates will also applyto reload transactions that are conducted directly via Bank Transfer or BPAY. For more information on how we set exchange rates please see the Product Disclosure Statement.
+T&Cs apply. Customer must contact Customer service to report lost or stolen card. Emergency cash can be arranged up to the balance on your Cash Passport, subject to availability of funds at the approved agent location.